Maui Surf Locations
Though there are far fewer spots to surf on Maui than there are on Oahu or Kauai, Maui does have a few gems. Unfortunately, Maui faces many challenges when it comes to perfect surf.  One of the questions we get a lot:
where can I learn to surf in Maui?
We answer this below along with spots that are popular for more advanced surfers.
Where can I learn to surf in Maui?
Beginner Maui Surf Spots
The Cove in Kihei is a fun longboarding wave (and occasionally a good short boarding wave.) This is where many Maui surf schools take beginners, which is smart due to wave size and shape. It breaks all along the cove and has a sand entry. The majority of the ocean bottom has reef and rock, so wearing booties is a good idea.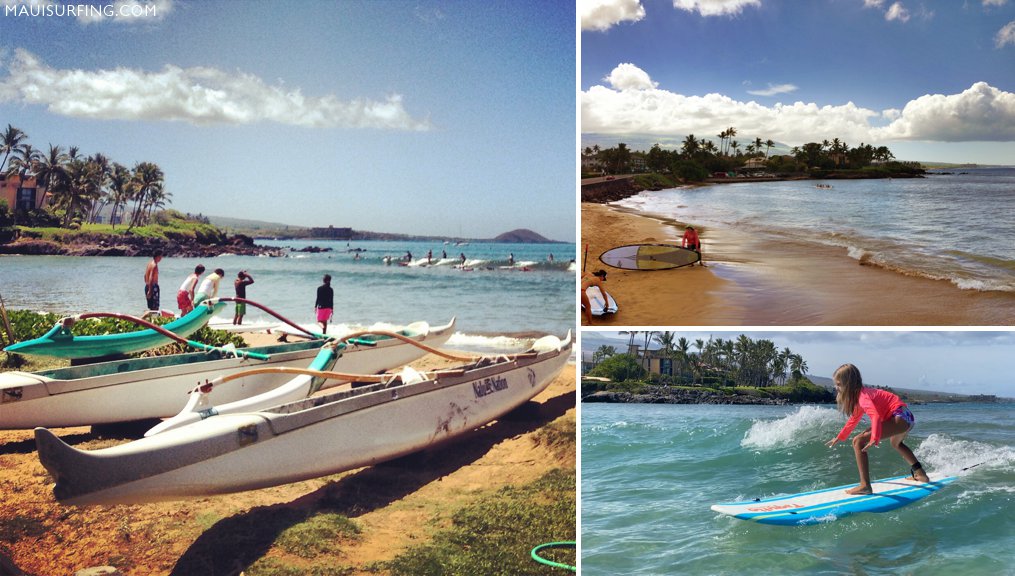 Breakwall is literally up against the Lahaina Harbor and can have some fun waves. Another popular spot to learn how to surf, these waves are very similar to those at the cove (which is why most surf lessons are done here). A gentle wave (that is usually small and forgiving) rolls towards the sand entrance. It is very shallow here though, so protect your feet from the occasional sharp rock, coral, or vana.
Expert Maui Surfers Only
Advanced Maui Surf Spots
Of course, Honolua Bay is a world-class wave. It breaks a handful of times during the winter season and can barrel like a machine. It has multiple breaks that occasionally connect, making for a lot of variety. The high cliffs can shield it from wind (to a degree), but when it works, it's really crowded. I mean, REALLY CROWDED. This is a problem in itself, but the fact that the wave is so good that people don't often fall and almost everyone can surf very well, there's not a lot of waves to go around.
Ho'okipa is the go-to spot on Maui because the access is easy and it's pretty consistent. Again, this spot gets really crowded too. The wave can get good, but it's usually subpar. It's consistent because it's wide open to any north swell that comes down. This can cause problems too because freak sets can suddenly come in that are twice the size of the normal sets leaving you on the inside getting hammered by wave after wave. The entrance and exit points are very specific too. You can't just go in anywhere. This poses problems when you're caught in currents and large sets are rolling in. It's best to get out of the water at least 3 waves before when you think you'd normally go in. Exhaustion is something you don't want to suffer from out there.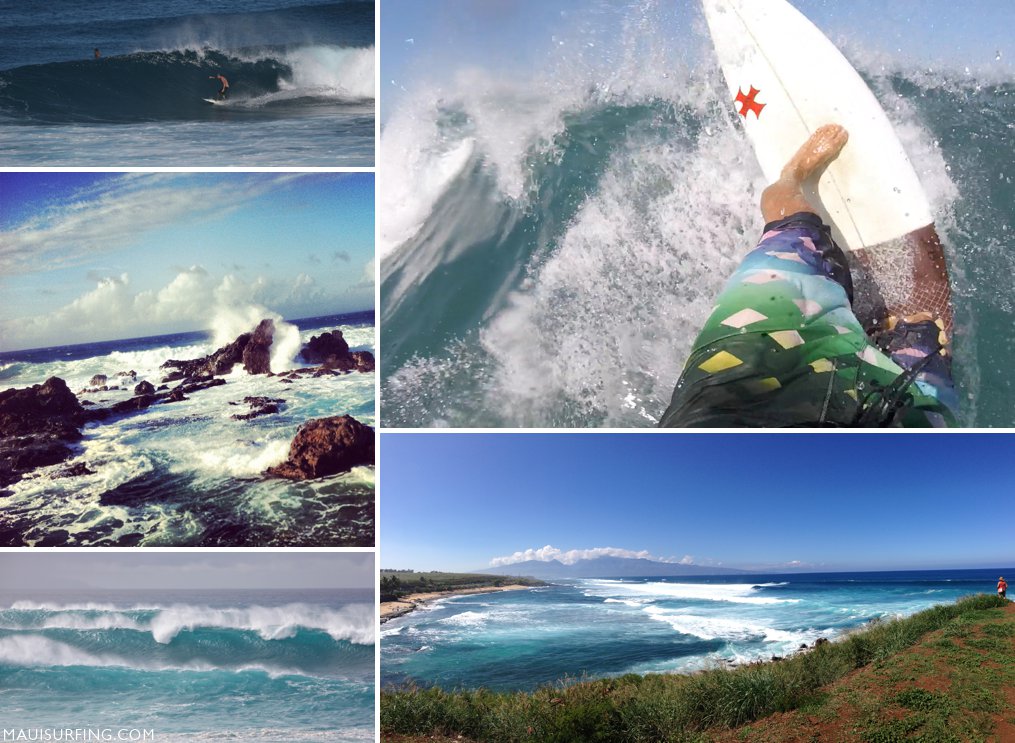 Pe'ahi (Jaws) is on the north shore of Maui and offers massive waves for surfing only a few times per year. Only seasoned professionals should attempt to surf here. Watching the waves here is quite a challenge due to the muddy terrain.
Maui does have a few secret spots to surf, but there's usually a reason for it. This island gets A LOT of surfing visitors and has quite a lot of residents of whom mostly surf. You'd think every spot would be widely known and surfed regularly. There's usually a reason why these spots are secret, and it's best to keep them this way. The last thing you want is for your last whereabouts to be a secret as well (which is why we're shutting up right now.) If you find a spot that looks good, but no one is out, think twice. Even if it isn't protected by those living nearby, it may be empty because of some unforeseen danger (Sharks, extremely shallow reef, dangerous currents, impossible exit points, etc…)
Challenges
Island blocking from Kaho'olawe, Moloka'i and Lana'i Islands cause a problem for some incoming swells. Historically, summers on Maui are usually pretty weak as far as surf. This is why you see a lot of professional surfers in Hawaii take to Indonesia or other spots on the planet that have more active summer surf.
Another major obstacle to getting good surf is owed to the high winds Maui is afflicted with on a nearly daily basis. Maui is by far the windiest island, which makes it Mecca for those that Kite surf or Wind surf. But for board surfing, it makes for chopping, difficult conditions and contributes to currents.
Lack of quality and variety of surf spots makes this little island very crowded when there is a good swell. We don't have beachbreaks where waves break everywhere, so when we get a good swell, the lineup is usually sitting in the same spot. It can be incredibly frustrating.