You may have heard about the famous right on the northwest end of Maui, Hawaii. Most people know about this spot for its clear, calm snorkeling in the summer.  But for advanced surfers with good timing, there are several variables that make Honolua surf legendary.
Before reading on, please understand this Maui surf spot is not for beginners or the disrespectful.  
A mahalo in advance to professional surf photographer Ben Kottke.  Most of the images on this page come from a recent 2021 winter day with an epic swell at Honolua Bay.  Ben is available to photograph you surfing here on Maui.
Honolua Bay Swell
Maui County is composed of multiple large islands, some of which block swell to the south and west sides of Maui.  If you're planning on surfing Honolua Bay, there's a good chance you'll find it flat. And even flat, you may still see 20 guys in the water.  The Bay can work on a North, North North West, West, and a North North East, but it has to be just right.  Wind can be a problem too, but the cliffs do help cut down on windy days.  Honolua breaks perfectly a handful of times each winter, then turns off and becomes a popular Maui snorkeling spot.
Swell wrapping around Honolua Bay is usually much smaller than you'd find on the north shore of Maui.  That being said, if it's massive and closing out, Honolua Bay is probably packed with surfers from all around the island. One morning, we drove from the north side all the way around the island.  it was massive at Honolua.  I paddled out with only 15 others (very rare), one of which was a good friend.  I caught a few dozen waves before I had to get out.  I was racing these waves for my life.  My friend was getting deep, giant barrels.  Later that day, I visited him in the hospital as he had broken his back in a few places.
Honolua Bay Sections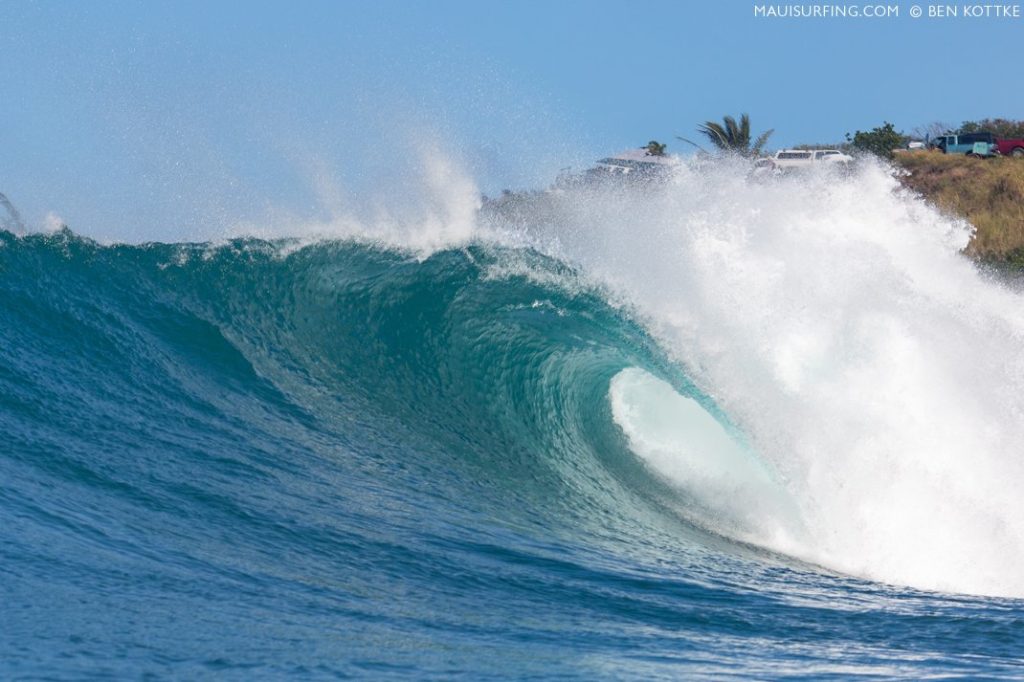 There are a number of sections you can surf at, with the occasional connection.  On the far north end, the wave begins at what some call Coconuts.  Surfers have to speed past the cliffs and rocks to make it to the point.  You usually don't see too many people at Coconuts due to the sketchy entry to the next section.
The Point is where you'll see a big crowd.  It can have a barrel, but if you ride it long enough it usually walls off before getting to the Cave.  Sometimes you can go left where the Point's wave usually ends.
The Cave is where the wave wraps around the cliff into the main Bay.  This is the best section in that it often bends and speeds up with a perfect round barrel.  Due to it being such a great wave, this is where the majority of surfers are found.  It's not a section that often breaks in different spots, so it can be hard to get a wave.
Next, you have Keiki Bowls, aptly named because you'll find a lot of younger surfers and boogie boarders.  This portion of the wave breaks on shallow coral and is more of a race track than anything else.  It's a fun section, but you need to make sure you get off at the right time and paddle shallow.  We've got scars on our knuckles from just paddling after Keiki Bowls.
Do they connect?  Once in a long while.  The chances of getting Honolua when it's even rideable, combined with the ability to get a wave in the crowd, and have the swell just right to connect all the sections are akin to lottery odds.  That being said, the best wave I've ever caught at Honolua Bay was from the Point with a quick barrel, then a threaded barrel at the Cave, and finally an incredibly warped barrel into Keiki Bowls  That one will live in my memory well-past Alzheimers or anything old age will throw at me.
Honolua Bay Tips
Getting down the cliff – Make sure you go down where you're supposed to.  There are plenty of little goat trails that can get you killed.  Even the dirt trail you're supposed to take is dangerous and not for the unstable surfer.  Some surfers choose to paddle in through the apex of the Bay, by walking through the jungle.  This is private property and takes longer.  In fact, the recent shark attack death at Honolua Bay happened because an experienced local was forced to paddle out through the bay this way because of the WSL surf competition blocking parking and the path.

Crowds – This is the most well-known spot to surf on Maui and one of the top waves in the world.  Even when it's near flat, there's a crowd.  Not only are there a lot of people, but they're 90% locals that are bummed about any tourist paddling out.  On top of that, most of the locals know how to surf.  The wave is so good that you're out of luck if you intend to wait inside and hope for sections to closeout or someone to fall.  So, respect, experience, and patience are what you need to surf here.  If you've only been surfing a few years, go to Breakwall.

Dangers – Much of the reef is alive with coral.  If you fall, it can leave marks.  If you get stuck in the wrong spot inside, you can get swept into the cliffs.  Even if you're a surfing veteran, that doesn't mean you can't get hammered by a board from some idiot.  It happens every day that it breaks.  And if you can handle it when small, be ready for an unexpected swell to come through.  It does happen.  I've been out on a 2-foot day and then for an hour it was double-overhead and thick.  It's not fun being at the end of a 3-hour session and being caught inside with 200 other surfers getting hammered into each other by big outside sets.
Time of Year – Really your only bet for waves here is in the winter.  It's pretty rare that it breaks any other time, and even in the winter, it's fickle due to island blocking.
Break-Ins – Aloha is strong on Maui, but there are still schmucks that like to steal.  Don't leave valuables in your car and take your key with you.
Parking – You need to park on the dirt cliffs.  If it's been raining, and especially if you don't have a 4-wheel drive, your car can get stuck or worse.  We've seen cars slipping down the hill to park, which is scary because there's no railing.

Bathrooms – Nope.  The only thing around are pineapple fields.
Snorkeling at Honolua Bay – We've seen tourists climbing down the cliff to go snorkel when there are waves.  Not smart.  Wait till it's summer and there are zero waves.  Also, it's best to find someone to take you and show you where to go.  Some boats depart from Lahaina and take you to a few hard-to-access snorkel spots including this Honolua snorkeling tour.
Honolua Ridgeline Hike
Venture away from Honolua's waves to hike the bay's surrounding area. HeleWai Eco Tours offers a great hike for anyone interested in diving into the importance of Maui's watersheds and native forests. Led by a naturalist, this trek takes place through a private reserve that's inaccessible to the public. You'll get a chance to see a range of endemic flora and fauna, and the views of West Maui are downright awesome.
Please let us know in the comments which surfer is which so we can properly credit them.  Mahalo!