Beginner Maui Surf Breaks
As any surfer will attest, riding a breaking wave is intrinsically therapeutic. Surfing forces you to center yourself and be fully present in the moment. Not to mention, it's wholly addicting. So, it is no surprise that surf lessons are one of the top things to do while in Hawaii! So, where should you begin? Check out these beginner Maui surf breaks below.
Before you consider surfing on Maui, assess your skill level, do your research, and take a lesson if you're still new to the sport. Let's go over the best Maui surf breaks for beginners and the DOs and DON'Ts of surfing on Maui.
DO take a surf lesson, even if you've taken one before. Not only is the ocean in Hawaii more powerful than countless places around the world, but your instructor can teach you more about etiquette, identifying ocean conditions, and help improve your form.
DON'T rent a board and expect to teach yourself. While the pros might make it look easy, surfing is dangerous, especially for beginners. You can easily injure yourself or others if you don't know what you're doing.
DO use sun protection. You will likely be provided with a rashguard if you take a surf lesson. Don't forget the reef-safe sunscreen!
DON'T paddle out at breaks like Ho'okipa or Honolua if you're anything less than an expert surfer. Even if it's small, breaks on these exposed coastlines are often more powerful with stronger currents. Plus, being a beginner getting in the way of experienced surfers is an easy way to get yourself hurt, hurt someone else, or earn yourself some stink eye or worse. Be honest with yourself about your skill level and choose your surf spots accordingly. (I've never gone skiing before, so I'm not going to start on the double black diamond! Think of these breaks like that.)
DO learn about surf etiquette if you paddle out without an instructor.
DON'T step on the reef. It's alive!
---
BEGINNER BREAKS
UKUMEHAME BEACH PARK – West Maui
This long strip of white sand situated off Honoapiilani Highway is ideal for beginners. There is ample room to spread out at Ukumehame. You can often find your own break or a break with just a few people. The waves here are usually soft and small. Beginners can stick close to shore even on bigger days and practice in the whitewash.

Ukumehame Hazards:
Sharp, shallow reef. Consider wearing booties if you're a newbie, but DON'T STEP ON THE REEF. Booties are only for extra protection should you kick the reef.
The wind can be extreme here. Don't surf here if the wind is blowing hard out to sea. You can be quickly swept out.
Are surf lessons available here?
Yes, many surf schools teach lessons at Ukumehame and require advanced reservations. – Ukumehame Surf Lessons
Practical Tips:
Do not park your rental car in the deep sand here unless it's 4×4. You will get stuck.
Avoid surfing in front of the beach parking lot on the east end of the beach. The reef is shallow and sharp, and this break is reserved for proficient surfers. Find a secluded break further down the beach.
---
THE COVE – South Maui
The Cove in Kihei is South Maui's surf lesson hub. As a result, the break is often crowded. The waves here are usually very small and soft. The entry is sandy, however, the ocean bottom is mostly reef and rock. Surf lessons and board rentals can be booked right across the street.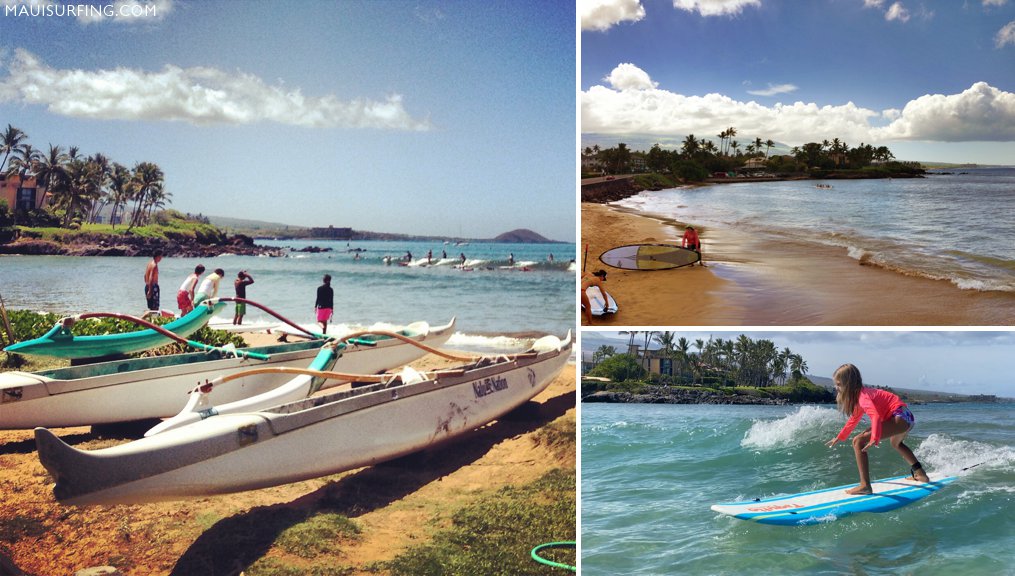 Cove Hazards:
Shallow water with reef and sea urchins can be a problem here. Definitely consider wearing booties if you're a beginner, but again, do NOT step on the reef. Doing so will harm it.
Lots of beginners surfing together can be hazardous. Luckily, getting hit with a foam board doesn't hurt much, especially in small waves. Just be aware of your surroundings.
Sometimes the water here can be dirty. Be aware of entering murky water with open wounds.
Are surf lessons available here?
Yes, tons! Surf lessons can be booked just across the street. – The Cove Maui Surf Lessons
Practical Tips:
Street parking is located on the ocean side of the street or in Kalama Park. A small parking lot is located on the south end of the break, but it fills up quickly.
Be mindful of locals who might be fishing on the south point.
This is an excellent location for kids' surf lessons.
---
LAUNIUPOKO BEACH PARK – West Maui
Launiupoko Beach Park near Lahaina is a favorite for beginners and adept surfers alike. This beach park is also a popular family hangout, with a small sandy beach, seawall-protected cove, picnic tables, showers, restrooms, and plenty of shade. The long, slow-rolling rights and lefts are great for beginners.

Launiupoko Hazards:
At low tide, the reef can be very shallow and sharp.
If you're not careful, beginners can ride straight into the seawall.
Launiupoko can get crowded, and collisions with other surfers happen often.
Are surf lessons available here?
No, Maui County does not allow surf lessons here.
Practical Tips:
This beach is very popular among families and gets extremely crowded on the weekends. Parking can be an issue. The beachfront lot fills up quickly, and parking spills into the lot across the street.
Beginners should stick to the southern side of the beach. The northern side breaks faster over shallow reef and is popular among well-versed surfers.
---
LAHAINA BREAKWALL – West Maui
Lahaina Breakwall is the most popular surf lesson spot on the West Side. This break is located just off Front Street and features a sandy beach with easy access. The harbor break wall (hence the name) creates a protected area with soft breaking waves ideal for beginners. The waves further out form a fast-breaking left-hander popular among more proficient surfers. If you're a beginner here, stick to the inside.

Lahaina Breakwall Hazards:
This break can be very shallow with sharp reef on low tide.
Lahaina Breakwall can get very crowded. Watch out for other surfers.
Large summertime swells can send big waves to this area.
Are surf lessons available here?
You bet! You can book a lesson in advance with one of the many local companies or sign up in Lahaina Town.
Practical Tips:
Stick close to the inside and avoid surfing in front of the break wall. This won't be an issue if you take a lesson.
Big swells can impact this area in the summer months.
---
GRANDMA'S (Papalaua Wayside Park) – West Maui
Grandma's is the first beach you'll come across after the 'Pali' section of the highway heading towards Lahaina. This beach park doubles as a campground and is an ultra-popular weekend hangout for families. There are surfable waves up and down the beach when there is swell. The main peak is located on the southern edge of the beach, which breaks even on smaller days. The waves here can get big on select swells.

Grandma's Hazards:
It can be very shallow on low tide with sharp reef. Concealed rocks are also an issue.
The park is dotted with kiawe trees that have sharp thorns. Be aware if you're walking barefoot out to the surf!
The wind can be strong here, sending boards flying or pushing you out to sea. Wait for calmer days to surf here.
Are surf lessons offered here?
No, surf lessons are not typically offered here.
Practical Tips:
There are better breaks for beginners (like the ones mentioned above). Try a more beginner-friendly break or avoid the main peak if you're brand new to surfing. Intermediate surfers who can pop up easily and are familiar with surfing etiquette will do fine here.
---
GUARDRAILS – West Maui
Guardrails is a strip of coast south of Lahaina located between mile markers 18 and 19 on Honoapiilani Highway. There are several forgiving, beginner Maui surf breaks in this area, and surfers can easily find an uncrowded or empty break to enjoy.

Guardrails Hazards:
The reef is sharp, and it can get shallow here.
The only parking is across the street, which requires surfers to dart across the street with their boards. There is no crosswalk.
The shoreline is mostly rocky. Entering and exiting the water can be tricky.
Are surf lessons offered here?
Yes. Many Maui surf schools offer lessons at Guardrails. Be sure to book in advance. – Guardrails Maui Surf Lessons
Practical Tips:
The waves at Guardrails are forgiving, uncrowded, and well-suited to beginners. However, new surfers should surf with an instructor here because entering and exiting the water can be challenging. Intermediate surfers should be fine surfing here by themselves.
There is no parking on the ocean side of the highway at Guardrails. This means surfers must run across the street with heavy longboards, and there is no crosswalk. Luckily, the highway was moved further inland and no longer serves as the main road in and out of Lahaina. That being said, there can still be traffic, and it's essential to be very aware of your surroundings.
There are no amenities at Guardrails. The closest bathrooms and showers are at Launiupoko Beach Park down the road.
---
***Curate your Hawaii experience even more by tuning in to the oh-so-enjoyable

The Aloha 360 Podcast

. Gain insight into where to go, what to do, and what NOT to do so you can have the best visit possible.***
Going To Maui's North Shore?
---